When Isaac Wells-Cage asks if you know what a group home is, you nod your head yes – but the truth is, most of us can't imagine what it was like for him growing up.
Born homeless to a single mom struggling with poverty and schizophrenia, Isaac and his twin brother spent most of their childhood shuffling between foster homes in Milwaukee before being sent to a home for troubled youths in one of Milwaukee's poorest neighborhoods.
There were fights. Theft. State workers who were supposed to fill the role of parents, but made it pretty clear that even they didn't want to be there.
But here's something you need to know about Isaac: He will make the best of any situation.
"When my brother and I were there, we were able to make low-key, pretty good relations with everybody," Isaac said. "And I think that our experiences were probably among the better of the experiences that have been in that house. We've heard a lot of stories about heinous things. Our experience was awful – but it could have been worse."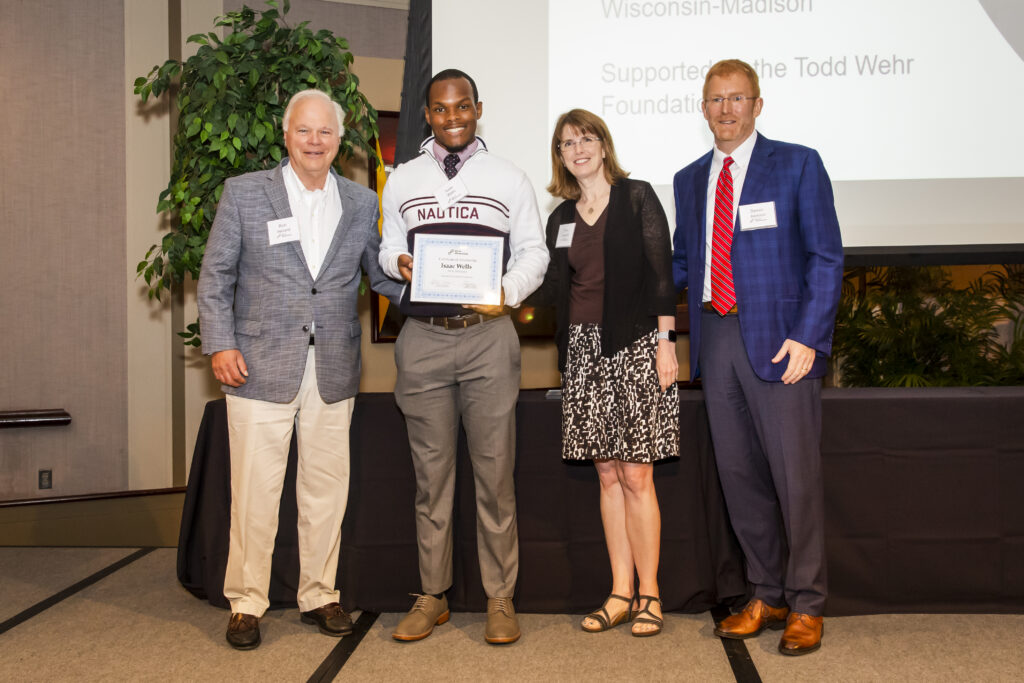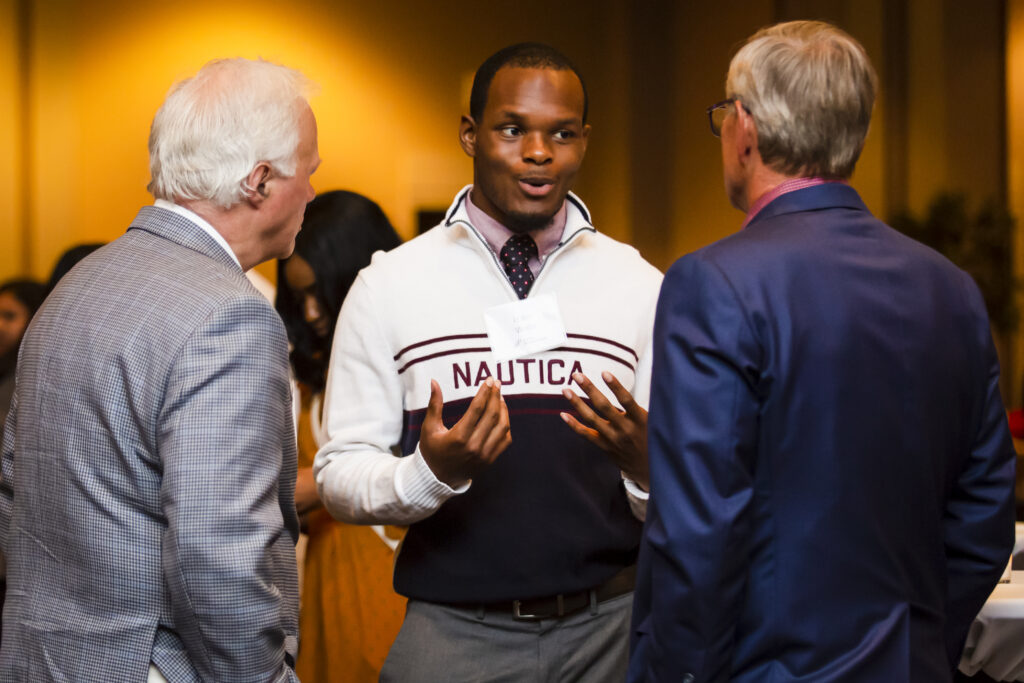 So how is it possible that Isaac went from being a ward of the state to, soon, earning an industrial engineering degree from the state's flagship university — and then taking his University of Wisconsin-Madison degree to a full-time job at Johnson Controls? Isaac accomplished a lot of that himself, something he takes immense pride in. But he also had support from All-In Milwaukee.
The most meaningful part of Isaac's All-In Milwaukee experience was getting to know members of Milwaukee's business community, including invitations to galas and awards ceremonies and other events that must have seemed like something from another planet at the time.
While Isaac isn't a fan of saying "if you work hard, you'll make it" – his life experience tells him things are far more complicated than that – these connections did show him what success looks like.
"I definitely did think that if I work hard and utilize my time and resources wisely enough, I confidently believe that I'll be among those people," Isaac said. "And it's looking like that's still the case."
Ultimately, Isaac said, "They guided my mindset. Surrounding myself with success helped turn me around."
After completing internships at The Commons, Mortensen Construction and Northwestern Mutual during college, Isaac accepted a full-time job at Johnson Controls.
"All-In Milwaukee has ensured 91% of scholars persist through college to graduation. It is an incredible feat!" said Olivier Leonetti, Executive Vice President and Chief Financial Officer at Johnson Controls and an All-In Milwaukee board member.  "I am even more inspired by the students, like Isaac Wells-Cage, that we get to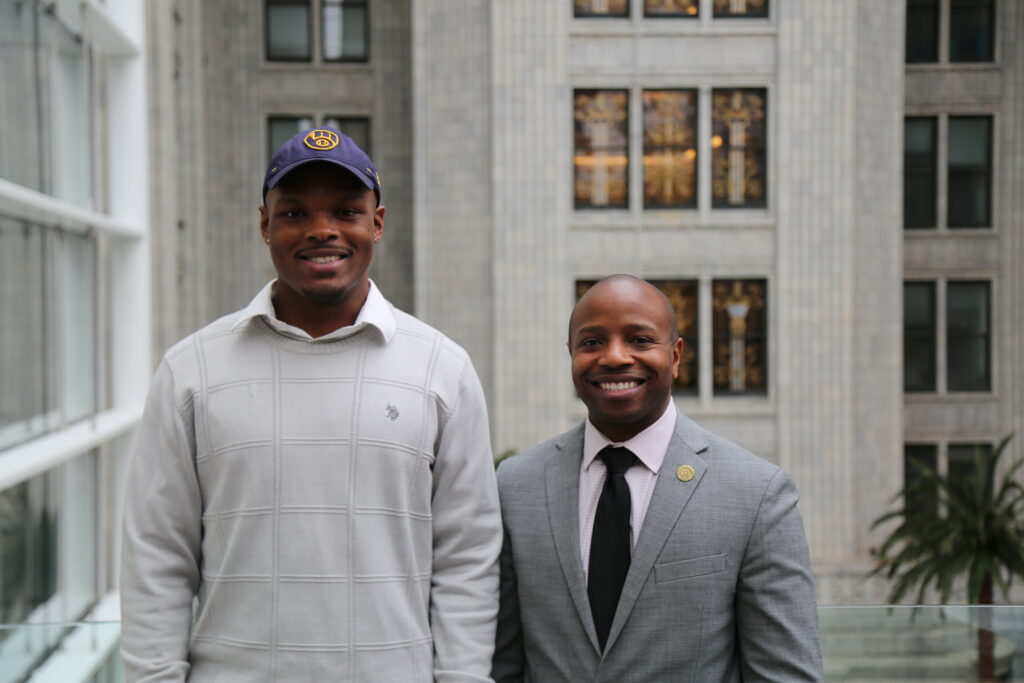 work with at Johnson Controls. Ninety percent of the scholars in the program are like me – the first in their family to go to college. I know first-hand of the many academic, economic and cultural challenges that these students must overcome to complete college. Johnson Controls is committed to partnering with All-In Milwaukee to build the professional workforce and leaders of Milwaukee." As an engineer, Isaac is aware of what statistics say about how unlikely his success story is. With that in mind, he's already thinking about how he can become a leader in Milwaukee and help solve issues for people – whether they live in the inner city or rural Wisconsin – who are too often left out of policy conversations. "Those people need a voice – but we also need their voices to be exalted by money. That's kind of the way the world works, unfortunately," Isaac said. "I can have as many people push to change a policy as I want, but as long as there's somebody who's paying for the policy to stay in place, then usually, the voices don't really have much weight." Through struggles and success, Isaac has learned to emphasize consistency and intentionality. As you might expect from an engineer, Isaac uses the physics of a bow and arrow as a metaphor
"You aim that arrow at something, a target," Isaac said. "But then the only way you'll be able to reach that target is being able to have that full, consistent draw of the bow. If it's too weak, the arrow won't go far enough. If it's too strong, then the arrow goes above the target. Pairing your intentionality — or your intensity, that might be the better word — with consistent work naturally helps push me and my friends along."